The wide breadth of artworks available here at Windjammer Arts depict a massive variety of naval craft, including both ships and airplanes. Our clients love working with us because of the accuracy of our designs. We take incredible care with each of our images to ensure that every antenna, lifeboat, propeller and rudder is perfectly proportioned.
What you get with each naval craft image from Windjammer Arts is not just a diagram of a military vessel. It is a vibrant picture that represents our country's strength in military power. Whether in war or peacetimes, each of the models we use in our drawings was actually commissioned by the U.S. Navy, U.S. Coast Guard or another military agency.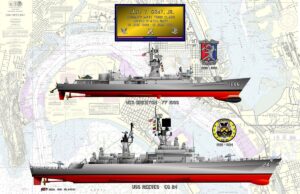 Now, we're pleased to announce on our blog that we're offering a brand new service that breathes a lot more life into our ship drawings. For an additional $10 on the price of any drawing, we can add a natural scene of a harbor or open water to the background. These dramatic backgrounds add a lot of character to any of our artworks, making it a truly remarkable piece for display.
Anyone who has served in the Navy wants to be able to share the awesome nature of that experience with others. These breathtaking works are sure to pique the interest of anyone who gets a glimpse, and they're great for hanging next to any awards, honorable discharge notices or plaques. Instead of natural backgrounds, we can also print a chart of your home port for a more personal touch.
The impressive nature of naval craft makes them perfect subjects for artworks that grip the imagination. Windjammer Arts produces high-quality handcrafted drawings of aircraft carriers, gunboats, cruisers, amphibious ships and more. Browse our inventory to see famous crafts from past generations, including some your former military family members may have served upon.